Reading Time:
4
minutes
The article is close to my heart.
In the article, there are no tips and tricks on how to make 1,000 crores overnight. The article is about engaging with some powerful questions and not trying to find an immediate answer to create wealth.
The article is not about creating crores, it is about shifting your focus from markets to learning from the master investors- All I want is a shift in your mindset. Markets will continue to rock, your only job is to work on your mindset to create massive wealth.
How Investors should think when markets correct?
Right now a lot of investors, advisors and mutual fund companies are focusing only on the market volatility, Fall in NAV, portfolio return, some think markets are like a bloodbath, some are in the mood of stopping their SIP, some are in the mood of redeeming money, sharp corrections, on the other side mutual fund companies and advisors are asking investors to stay patient with their investments and encouraging them to invest more.
In short, some are positive and some are extremely negative about the situation we are into.
But……
There is a very little focus on how master investors think when markets correct. There is very little focus on inspiring wealth creation journey of master investors. There is very little focus on how successful or master investors behave and act during market turbulence. We all start from zero and it is important to think and observe winning or master investors as we continue to walk on our journey of wealth creation.
Wealth Creation Journey of Mr. Ramdeo Agarwal
In the personal finance world, I have many teachers, there are many master investors from whom I continue to learn and get inspiration from. I am always like Eklavya, who keeps learning from different teachers from a distance and I will always continue to learn and absorb the maximum I can.
Mr. Ramdeo Agarwal is the Co-founder of Motilal Oswal group of companies, his journey of wealth creation transformed after meeting his mentor Warren Buffet. I never miss to read his wealth creation studies and there is not a single YouTube video I have missed in which he has featured.
I got an opportunity to be in the same room with Mr. Ramdeo Agarwal Ji in the US, my friends took a picture with him but I did not. I was having thoughts like, let me first do something amazing in life, let me create immense wealth using equity as a vehicle, let me help others to get wealthy by educating them on equity investments.
I should perform as a student first and earn the privilege of sharing a photo with him.
The POWER Questions I engage with about my teacher ( Mr. Ramdeo Agarwal Ji) are?
How does he (Mr. Ramdeo Agarwal) create wealth?
How does he maintain his conviction in the equity market?
How he stays on the court, no matter where the markets are?
How does he build his business empire around equities?
How does he stay so consistent with his investments?
How does he deal with losses in his portfolio?
How does he feel when he makes huge profits?
How does he stay committed to the process of wealth creation?
How does he practice the power of compounding in his day to day life?
Initially, I was busy to get answers to the above questions but after hearing and reading about Mr. Ramdeo Agarwal and his style of investing I came to know that the real secret is not in getting the answers, the real secret is in staying engaged with the questions, it is about staying engaged with the journey of wealth creation. It is about having your own investment philosophy, it is about allowing the power of compounding to do its work.
It is about finding your own process of wealth creation and keep refining it. It is about doing something over and over and over and over again and if something does not work for you, you make changes in your process and continue to move forward in your journey of wealth creation.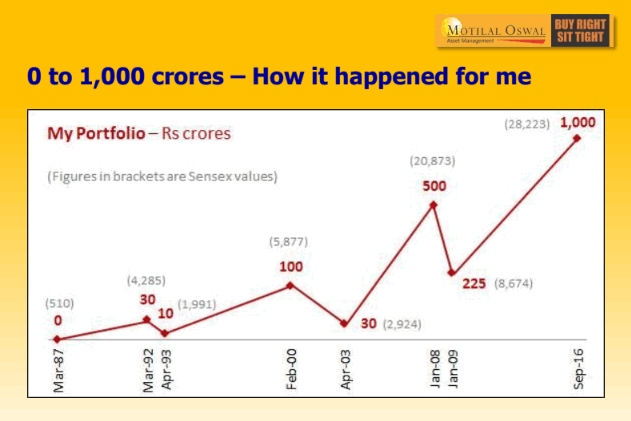 Most newbie investors feel and think that master investors have something SPECIAL in them, they do something special to create wealth, they have some special knowledge or special skills. In reality, the only thing special about them is they do not look for ANYTHING special. They master consistency, repetition and stay focused on their path. They won't allow any kind of outside noise to deviate them from their journey of wealth creation.
I invite you to read the pdf if you have read it before I invite you to read it once again. The PDF is old by now his personal net worth must have crossed a few more thousand crores. While you read to keep the above questions in front of you, do not look for special qualities or some special information from the pdf. From time to time we will continue to share other master investors from whom we can learn and inspire from.
Teacher and His Meditation Student:
Lastly, I want to leave you with a conversation, a student had with his meditation teacher.
A student went to his meditation teacher and said, "My meditation is horrible! I feel so distracted, or my legs ache, or I'm constantly falling asleep. It's just horrible!"
"It will pass," the teacher said matter-of-factly.
A week later, the student came back to his teacher. "My meditation is wonderful! I feel so aware, so peaceful, and so alive! It's just wonderful!'
"It will pass," the teacher replied matter-of-factly.
The market correction will pass away!
You have the power to create massive wealth
You really have the power to create massive wealth, almost everyone starts from zero or from a scratch and on one fine day they become an inspiration for others. Choose to be an inspiration to others, the article is not about Mr. Ramdeo Agarwal ji, or how much money he has made.
It is about learning from the master investors and taking your financial journey to the next level. Create your financial journey more meaningful, stick to your mission of wealth creation and if that's the game you will never bother where the markets are going. You will see every situation as an opportunity to create wealth.